Do More, Worry Less: Small Steps To Reduce Your Anxiety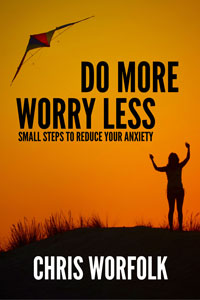 A book for people who want to reduce their anxiety. You're not hopeless: you just need a better system.
If you feel like there is too much stress and worry in your life, if you have been struggling with these issues for years and if you have not found long-term results that stick from therapy or drugs, this book is for you.
In Do More, Worry Less we look at lifestyle. It gives you clear and actionable steps you can use to improve your mood and reduce your anxiety.
It is no quick fix. It's a slow process. But, by breaking it down into small, manageable steps, it produces results that work. Results that are achievable even if everything else you have tried has failed. All in a way that is both natural and evidence-based.
Formats: paperback, eBook
ISBN-10: 1544025572
ISBN-13: 978-1544025575
Links: Worfolk Anxiety
Buy from Amazon.com Apple Books Amazon.co.uk