How to Exit Vim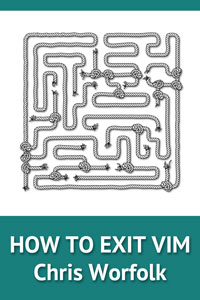 This book does not cover anything except how to exit Vim. It has 19 chapters.
Have you ever found yourself trapped in the command-line text editor Vim? If so, this book could save you from tearing your hair out. It breaks down each situation you may find yourself in, and the correct exit command to get you to safety.
Without it, you may find yourself losing work, overwriting critical data, getting lost in a sea of tabs, or worst of all, looking stupid in front of the stern-looking system administrator standing behind you.
With it, people will think you are a wizard. Finally, a way to unlock the mysteries of quitting Vim without leaving a trail of destruction behind you.
Formats: eBook
Buy from Amazon.com Apple Books Amazon.co.uk