Why Restaurants Fail - And What To Do About It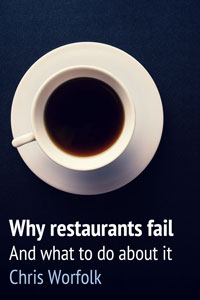 Why do most restaurants close within three years? What secrets do the successful chains know, that the independent eateries do not?
The answer has almost nothing to do with how good the food is. In this book you will:
Learn the big 10 predictable and avoidable mistakes restaurateurs make
Discover the real reasons consumers choose one restaurant over another
Find proven strategies for increasing diner satisfaction, and revenue
For restaurant owners and managers, this could be the most important investment you make all year. For everyone else, it will be a fun read.
You will not get bored. At 52 pages, including the appendix and glossary, this book contains only good stuff; no filler. You will love this book.
Formats: paperback, eBook
ISBN-10: 1541380002
ISBN-13: 978-1541380004
Buy from Amazon.com Apple Books Amazon.co.uk